Ole's Big Game Steakhouse and Lounge in Paxton, Nebraska is a real icon in unusual places to eat.  There was a real Ole and he loved to hunt. The first thing to greet you 
upon entry is a polar bear that must be 8 feet tall.  On one hand, if you're offended by hunting or are a stark vegan, this is not the place for you. If you can enjoy a person's passion for the outdoors, you'll love it here.
Paxton, Nebraska is located on mile marker 145, Interstate 80. It's between Ogallala and North Platte.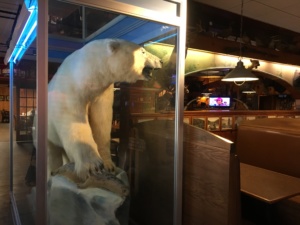 There are photos and stories of Ole's hunting exploits from bygone days when a lot of game was plentiful and he went to extreme measures to get it. One story of a bighorn sheep showed very crude tents in the snow and explained that they had to pack everything in using horses. A mountain top is circled as the place where he shot the bighorn, then had to carry it down by person. Not exactly shooting fish in a barrel, he was a true outdoorsman. 
The steakhouse is adorned with a plethora of animal heads. I believe all of them are North American. This is a very unique place and they feature great food. I got there in the morning, as my travels don't always set up for me to visit these places precisely at meal time. The waitress said they specialize in steaks. I always ask about any featured meals and she said they sell a lot of chicken fried steak. Well, since my diet suggests more poultry than red meat, this was a perfect combination, as I can report this as half and half. 
I got cole slaw as a side and it was very good slaw. The cabbage was nicely shredded and the sauce was plentiful and very tasty.  The chicken fried was quite good. I can safely report this as a wonderful place to eat and worth going  a distance out of your way to enjoy this place, which has been going strong since 1933. Any place that's been in business that long has to be good and they are.  This one gets a 5 bike rating from me.
North Platte—The Canteen Grill at 2102 S. Jeffers, just off I-80.
I asked the staff at the Fairfield inn about good dining nearby and was recommended to try the Canteen Grill. The name came from the Canteen in the rail station which served the Railroad that went through North Platte during World War II carrying soldiers off to war. The women of the area made it their mission to provide home cooked meals to all the passing soldiers. They served over 6 million soldiers from December, 1941 to April 1945.
More about this later, now for the review. I thought of typical fried food grills, but no, the place is owned by a chef and this is fine dining for every day prices. Abcde (pronounced AB-sid-ee), my waitress,  was fabulous and very knowledgeable about what foods go together. She said she liked the Caesar salad with a piece of grilled salmon on top, which is not on the menu. She found out the price, which was very reasonable and I love salmon. My word, this was heaven in a bowl. The salmon was grilled perfectly and the salad was great.
I always seek to provide excellent reviews and since the entire menu is of such quality, I decided to go totally overboard and ask for dessert. I selected the mud pie. One thing chefs do differently that distinguish them from cooks is the presentation. A chef will produce art on a plate and this was no exception. It was heavenly and I was full after 2 bites. But, as always, I persevered to bring you the absolute best reviews and I ate quite a lot of it. Each bite was as good as the first, so you may rest assured that this place is a great place to eat.
This gets my highest rating of 5 bikes.
Now, back to the original North Platte Canteen. As I read this story, I wondered how these women ever bought all this food. I guessed they finally got the government to fund the food purchases. I couldn't have been more wrong. The farmers and ranchers from the surrounding countryside came up with every bit of food and it was driven in by car and truck. Bear in mind, gas was rationed and so were tires and no exceptions were made for this effort. Unbelievable.
A lot of soldiers savored the memories of those meals and it was a great morale boost for them later in the field.
Many stories have been done, one of them by NPR:
http://www.npr.org/sections/thesalt/2016/12/07/503157986/north-platte-canteen-where-the-heartland-opened-its-heart-in-wwii
There are many pictures on the back wall of the Canteen. The original building was torn down and this place took the Canteen name.
If you get anywhere near North Platte, Nebraska, please stop in to eat and see the photos.