These are all in the Southeast corner of Nebraska. Probably best to google the towns for directions, as some of these are very well hidden. This is a true treasure hunt and one of the fun aspects of riding a motorcycle. Forget fast food and enjoy the fruits of the ride.
Traditions Pub, Sprague, Nebraska (13 miles south, 2 miles west of Lincoln)–This place has amazing food and truly exemplifies the magic that exists in small town bars. Very small towns, like Sprague, pop. 145, have bars that are the town restaurant. They're commonly packed with families on weekend nights for dinner and often have children in attendance before 8 pm.
The menu at this place goes well beyond grilled burgers and the diligent work of a creative kitchen staff rewards the taste buds of those who can find their way here.
The real treat here is the Friday night Walleye fry. They spent a lot of time perfecting this delicacy. This isn't just some soggy piece of dead fish. No, this masterpiece is a very crisp and delightful presentation.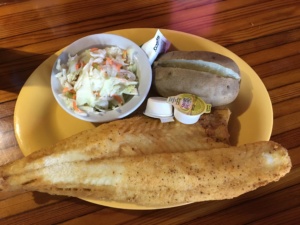 It's substantial size is shown here, hanging over the sides of a good sized oval plate.  Very lightly breaded and fried in peanut oil, this has no fishy taste at all and it remains crisp from the first bite to the last.
Proper eating technique is displayed here by one of our top research assistants. Walleye is a larger fish and to pick up a slab of that fish and keep it all in one piece is no small feat. This photo shows just how crisp this dish remains during the meal.
Friday nights, Sprague–well worth the trip. The fish takes time to prepare, don't be in a big hurry, as each piece is prepared as it's ordered and the food draws a crowd. It's a great reward for a lovely ride on two wheels. Bikers welcome here.
Don's Bar, Memphis, Nebraska (38 miles northeast of Lincoln, just north of Ashland, NE on highway 66)
I visited Don's during a poker run and the place was rocking on a Saturday afternoon. Bikes stretched a block in either direction and they were grilling burgers and brats outside. The smell was delightful.
Heron Bay, Springfield, Nebraska (44 miles northeast of Nebraska, Hwy 50)  This is one of the outstanding gems of Nebraska. It's located right on the Platte river with outdoor seating close enough to get your feet wet.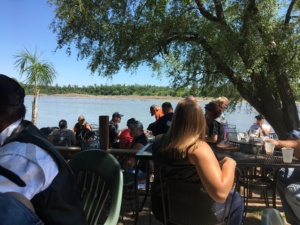 The burgers are good, the beer is cold and the parking lot is packed with bikes and a few custom cars every Saturday and Sunday afternoon in good weather. It's a great bike show to just wander the parking lot.
Ride all day and kick back at Heron Bay for a great finish to a biker's day on the road. This place is a true biker's delight.
Oh, my. An Italian place in the back of a grocery store in Firth, Nebraska (just south of Lincoln) is our latest find, Thanks to Dave Young–
http://journalstar.com/entertainment/dining/restaurants/papa-d-s-in-firth-serves-tasty-italian-fare/article_03ffb365-4134-57df-af24-0e09d1c04466.html
I can't wait to try their feature dish, not even on the menu:  "Baked Nebraska".
 The Salty Dog Saloon, Steele City, Nebraska--about 77 miles south and a little west of Lincoln. The Salty Dog Saloon is a wonderful little bar and the highlight of a small town.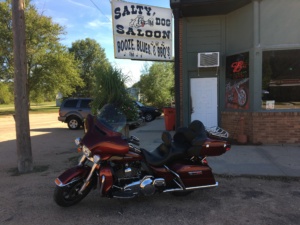 The menu is many pages and the food is the pride of the place. Excellent Mexican food is unusual for a bar and the fare here has made this place famous in this part of the state. Well worth a trip. Say hi to Liz, she's a great hostess.
They have a great bike festival the first week of June.
Acapulco Restaurant, Wahoo, Nebraska
Atmosphere leaves no doubt there's no hot beef and gravy sandwiches on the menu.
🙂 This is pure Mexican done right. Intricate detail in decorating and quite lovely. I knew right away when all the music was in Spanish.
The menu is extensive and I love Fajitas. Taste is great and no gluten or wheat, so I can eat it. The meal was terrific, the service quite good and the price very reasonable.
This is a great place to eat.